Hydraulic System
by LIV-Power Hydraulics
Designed for
Rear-Mount and LIV-Powr Hydraulic Systems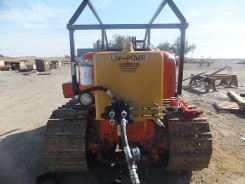 Is your crawler lacking the necessary fluid specifications to operate your equipment? If so, LIV-Powr may be the answer. LIV-Powr is compatible with most Caterpillar, Allis Chalmers, International, and Komatsu crawlers. LIV-Powr is a "live" fluid power system designed for actuating agricultural and industrial implements pulled by crawler-type tractors. LIV-Powr saves time when operating in tight spots because the pump power source bypasses the clutch assembly to provide continuous power at all times when the engine is running. Please contact us and one of our knowledgeable associates will be happy to assist you in determining which LIV-Powr package is right for you.
Liv Powr Specifications / D7GSA / D6DSA / Rear Mount System / Repair Parts
Contact us to learn more about the innovative LIV-Powr system. We proudly serve our customers nationwide.